Skip to Content
Cardinal Showers Doors & Mirrors in San Jose, CA
Upgrade Your Bathroom with the Help of Our Team
Home décor trends change rapidly. What was popular a few years ago may look outdated today. This is especially true in bathroom design, which can leave you wanting more for your space as trends change. J&M Showers and Glass can help you create a timeless bathroom design with the installation of a new Cardinal shower and mirror at your San Jose, CA home. These glass shower enclosures provide beauty and elegance to any bathroom space, creating an upscale vibe immediately. Please reach out to our team today to learn more about our shower options or to schedule a consultation.
Elegant Designs from Cardinal
Your bathroom should be a space for relaxation and unwinding at the end of a long day. Our team can help you create a peaceful oasis with the elegant design of a new Cardinal shower enclosure or glass shower door. These beautiful additions will immediately upgrade the look of your bathroom, taking it from boring and outdated to modern and stylish. Our team can help you find the right shower enclosure or door to match the design of the rest of your bathroom, ensuring a cohesive style. Once you choose which option you like best, we can then provide the professional installation of your new addition. You can count on us to take care of the project from start to finish.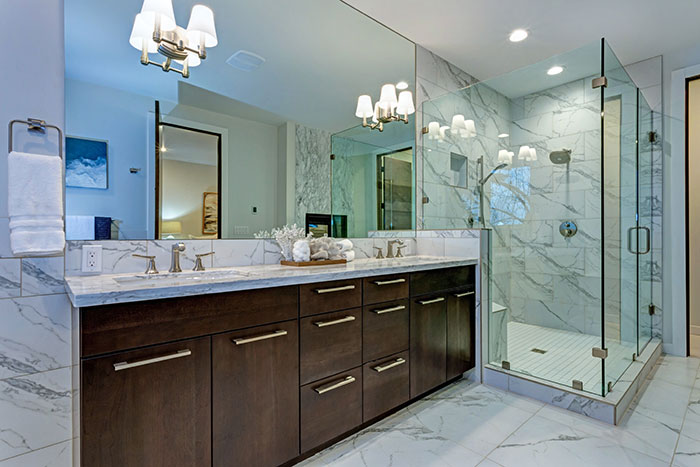 Cardinal Products We Offer
At J&M Windows and Glass, we offer a range of Cardinal products to help our customers improve their homes. Cardinal is one of the leading manufacturers of glass home interior products in the country. The company creates a selection of items to enhance and modernize any space in your home, especially the bathroom. Our team can help you find the perfect Cardinal products to add to your home and professionally install them. We offer a selection of the following products from Cardinal:
Shower Enclosures: Give your bathroom a spa-inspired upgrade with the addition of an all-glass shower enclosure. You'll have your choice of finish, glass option, and door option to fully customize the look of your enclosure.
Shower Doors: If a full glass enclosure isn't your style, you can opt for an elegant glass shower door to add to your current enclosure or tub. We offer a selection of glass doors to meet the needs of every home.
Mirrors: A modern mirror can upgrade the look of any space. We offer Cardinal mirrors for bathrooms as well as wall mirrors for the other rooms in your home. These stunning pieces will reflect natural light back into space, brightening up any room.
Why Choose Cardinal Products?
If you're considering adding a new glass shower enclosure to your bathroom, you can't go wrong with one from Cardinal. Our team offers products directly from this leading manufacturer of glass shower enclosures and other glass products. You'll have no shortage of options when it comes to Cardinal glass shower enclosures, as you'll be able to choose from framed, semi-frameless, and frameless options. You'll also have the choice between swing door and sliding door options. Not to mention, all-glass shower enclosures from Cardinal come with a lifetime guarantee against defects in craftsmanship and materials. Choosing to install a Cardinal shower enclosure at your home is one you won't regret.
How a Bathroom Remodel Can Improve Your Home
You may be wondering if upgrading your bathroom is worth the cost. This is a question on many homeowners' minds as they begin thinking about any home improvement project. The truth is, even small upgrades like adding a new shower enclosure, door, or mirror or switching out fixtures can be beneficial. These small upgrades can provide both functional and aesthetic benefits, making your home a better place for you and your family. Some benefits of upgrading your bathroom include:
Increased Home Value: Bathroom upgrades provide a good return on investment, helping to increase your home's value. Even a small update like switching out an outdated shower insert for a new glass enclosure can help you improve the look and value of your home.
Potential Cost Savings: Outdated fixtures, like faucets, showerheads, and toilets could actually be costing you money due to their inefficiency. Many older fixtures can waste water, forcing you to pay higher bills each month. If you choose to update your bathroom, you could cut out this waste and potentially save money.
Creates a Relaxing Environment: We all want a relaxing space where we can unwind at the end of a long day. Upgrading your bathroom will create this environment for you, helping you reach peak relaxation when you need it most.
Contact J&M Windows and Glass
Are you ready to upgrade your bathroom with a new glass shower enclosure? Now is the time to contact our team and get the process started. J&M Windows and Glass can help you improve your space with a new Cardinal shower enclosure, door, or mirror. We can help you find the perfect option to update your space and bring new life to your bathroom. Contact us today to learn more about our options or to schedule an in-home consultation.