Skip to Content
Cardinal Showers & Mirrors
Elegant Designs From Cardinal Showers and Mirrors
Cardinal is America's leading manufacturer of custom glass shower enclosures. They have been in business since 1948 and have been maintaining their high quality by fabricating and tempering their glass in their headquarters in Louisville, KY. They also have a dedicated fleet of trucks and vans that are available for both long-haul and local routes. This helps them guarantee quick delivery times and since they are delivering themselves, they make sure that their products meet their high standards when they get to your front door.
They also offer their trademarked Cardinal Rules™. It's these rules that hold them to the standards of delivering high quality, on-time and while providing the highest level of customer support. The first Cardinal Rule is Reliable Quality. They have over half-million square feet in manufacturing and distributing facilities across the nation where they use state-of-the-art fabrication, tempering and glass finishing equipment for all their products. Having their own dedicated trucks holds them accountable to follow their second rule of On-Time Delivery. Responsive Support is their third and final Cardinal Rule. They have cultivated a management team with decades of combined industry service and they are always on hand when you need them.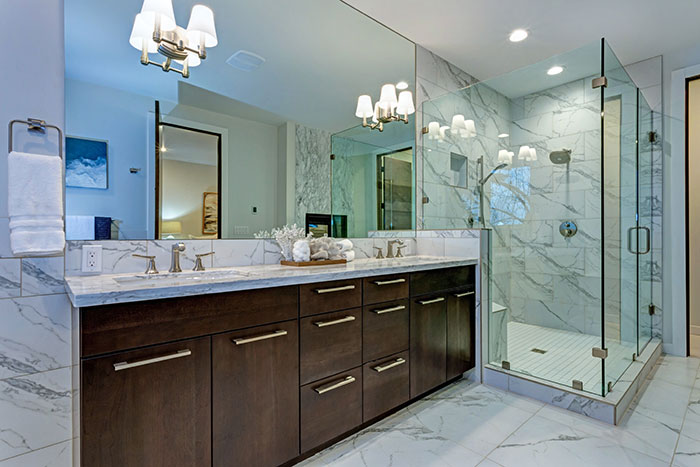 Offered Products From Cardinal Showers and Mirrors
J&M Windows and Glass, Inc. wants to offer the quality craftsmanship of Cardinal Showers and Mirrors for your next renovation project in your home. They have over 50 years of experience in making some of the industry's best products for your bathroom.
We offer their heavy glass units as the option for your current shower replacement. These units use 3/8" and 1/3" thick glass and we mount them directly to the wall. As well, we mount all handles and towel bars directly to the glass so that it gives off a very open and sophisticated look.
Speaking of open spaces J&M Windows and Glass, Inc. also carries Cardinal mirrors to help give the appearance of much larger rooms around the house. And while they provide the physical mirror, it is our design team that will help you pick the right one for the right room. Call us today to get a frees estimate and we will help meet all your specifications.