Skip to Content
Shower Door Installation in San Jose, CA
Shower Door Installation for Your Home
Affordable Shower Door Installation by J&M Windows and Glass
Turn to the seasoned professionals at J&M Windows and Glass for new shower door installation in San Jose, CA. Our experts are committed to giving you the most flexibility and convenience while designing and installing your custom shower enclosure. Many people want to upgrade their bathrooms but don't have the budget for a complete remodel. We get it! That's why for over 40 years we have satisfied customers throughout the San Jose area with our affordable and professional shower door installation services.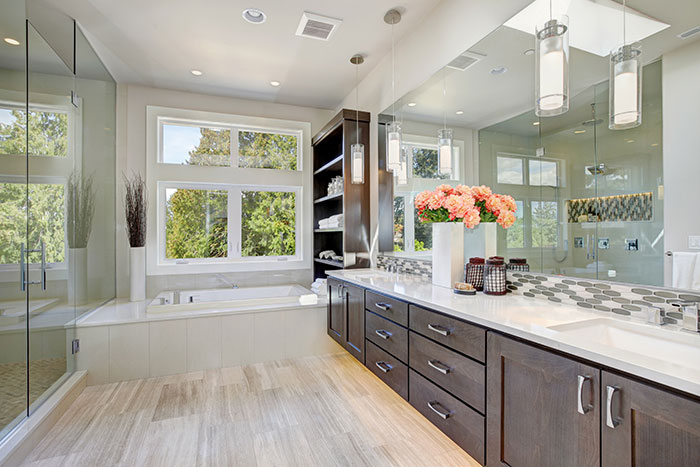 The Benefits of Quality Shower Door Installation
A quick way to upgrade your bathroom's aesthetic is to replace your dingy shower curtain with a new shower door. We offer a wide range of options to choose from and can accommodate most shower sizes. Though installing a shower door may seem simple at first, there's more to the process than meets the eye. Here are a few reasons why you should give yourself a break from DIY projects and let our professionals install your shower door instead:
Prevent Water Damage – We make sure your shower door is tightly sealed, which reduces the risk of water damage. Correctly installing the shower door the first time reduces repair costs down the road.
Avoid Injury – Moving around large panes of glass can be dangerous. Instead of putting yourself at risk, consider leaving the heavy lifting to the professionals at J&M Windows and Glass.
Enhance Aesthetic – Our team of experts has ample experience with many challenging and complex shower door installations. If you hire one of our professionals, you won't need to compromise your style on account of inexperience.
Don't sacrifice the quality of your bathroom space by allowing inexperienced hands to install your new shower door. The entire team at J&M Windows and Glass is well versed and trained to perform exceptional shower door installation services, and we even repair or replace your shower door if it fails to pass our quality control inspection. With us, you know you're getting the best glass services San Jose, CA has to offer – every time, no exceptions.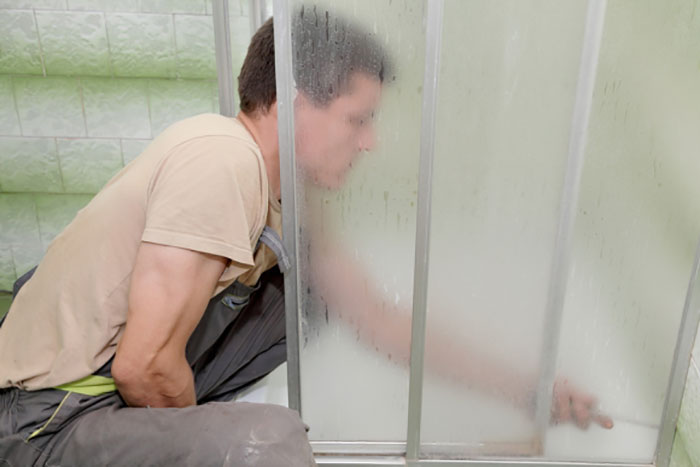 J&M Windows and Glass' Team of Installation Experts
When done correctly by a professional, a new shower door installation is an easy and inexpensive way to enhance your bathroom. Our custom glass doors make bathrooms appear larger and more elegant. Our experts are committed to affordable and superior installation and will take into account all your specific shower enclosure needs, including:
Slider vs. Pivot
Framed vs. Frameless
Shower vs. Bathtub
Glass Finishes
Accessories
Space Allowance
If you're having trouble picking out a design, our professionals assist you from design to installation, turning your bathroom into your dream space. We offer a wide variety of glass options, ranging in obscurity, color, and thickness that will be sure to turn your shower enclosure into space where you can unwind after a long day.
Custom Shower Door installation in Jan Jose, CA
At J&M Windows and Glass, we consider every detail. We pride ourselves on our ability to exceed customers' expectations and deliver services unmatched by our competition. We understand that there are many things to consider when choosing to enhance your space with a new bathroom door installation. With us, the process is quick and painless, as we're here to help from start to finish. Here's a breakdown of our shower door installation process:
Consultation and Estimate – First, we talk to you about all of your shower door needs. This conversation covers customizations, shapes, sizes, opacities, hardware finishes, handles, and more. Once these features are decided upon, we will supply you with an estimate that suits your budget.
Review and Approve Estimate – We encourage all customers to take some time to review their estimate. At J&M Windows and Glass, we never want our San Jose, CA customers to feel like they're breaking the bank to access quality installation services. We do everything we can to accommodate your budget and don't begin working until you give us the okay. Once approved, our shower door installation experts will follow up to make sure all of your questions.
Perform Measurements – We then schedule an appointment with you to have one of our professionals come out to your property and complete any measurements needed to finalize your estimate and begin the customization and installation process.
Manufacturing – Our team of experts uses the highest-quality materials and equipment to prepare your glass shower door panels, hardware, and other accessories that will be needed for the installation process.
Shower Door Installation – To begin the shower door installation process, we will schedule a time that works for you and begin working. Our services are so quick and efficient; you'll hardly know we were there!
We pride ourselves on providing top-of-the-line customer service and using nothing but the best raw materials for each shower enclosure project. We know a quality job starts with dedicated craftsmanship and seasoned experts and ends with complete customer satisfaction.
Contact Us Now!
To begin exploring your shower door options & features, contact J&M Windows and Glass today.  We would be happy to answer any questions you may be having. We've been one of the most trusted glass companies in San Jose, CA for decades, and we'll gladly lend our expertise to your next shower door installation project.