Skip to Content
Sliding Glass Patio Doors in San Jose, CA
New Sliding Glass Doors & Replacements
Sliding glass patio doors are a common home feature, and at J&M Windows and Glass in San Jose, CA, we have extensive experience with all types of sliding glass doors. We design patio sliding doors from leading manufacturers. Our family-owned and operated business has been in San Jose for decades, and that's because of our high-quality work and outstanding customer service.
If you want new glass sliding patio doors in a home that you are constructing, we can help. Our estimates are free. Contact us today for more information.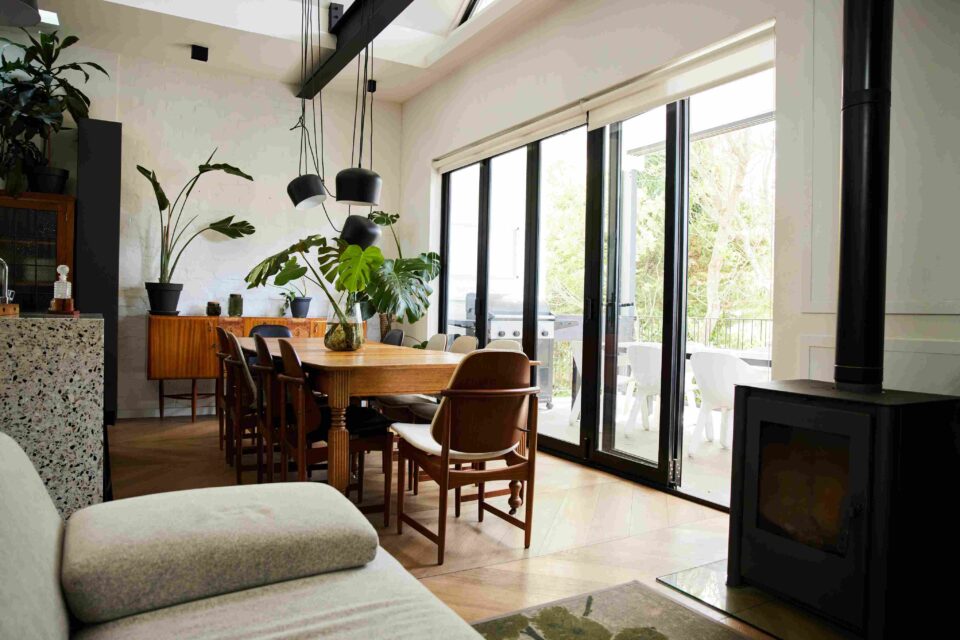 What Is a Sliding Patio Door?
Patio sliding doors are usually a point of entry between a home's interior and exterior, commonly leading to a patio, deck, or backyard area. These doors are made of framed panels of glass that slide back and forth along a track, and they often have a sliding screen door as well. Typically, sliding doors of any kind offer space savings, since they don't require the same amount of room as a hinged door, which needs clearance in order to swing open and shut. Sliding glass doors are often slightly oversized, and since they're made of glass, they let in an abundance of sunlight and provide a view to the outside. Sliding glass doors with blinds can provide additional privacy.
Features of a Sliding Patio Door
Easy to use
Saves space
Attractive appearance
Adds natural sunlight
Variety of styles and designs
Silent operation – no slamming
Low maintenance
Secure locking mechanisms
Additionally, new sliding glass patio doors are far more energy-efficient than older doors. Today's sliding patio doors are made with insulated glass and offer energy-saving features like Low-E or argon gas. If you have older doors, talk to us about your sliding glass patio door replacement options—it may save you money on your energy bill.
Patio Door Design Options
One of the biggest advantages of a sliding glass door is the many options you have for each component. The exterior and interior finish, hardware, glass, casings, screens, sills, and the interior glazing profile are all specific parts of a sliding glass door that can be customized. Glass can be decorative or plain, and many energy-saving options are available. For the framing of the door, customers can choose from many types of materials, like wood, aluminum, fiberglass, and vinyl. Depending on the type of material you choose, you may also have color options. The hardware is also offered in a variety of styles and materials. At J&M Windows and Glass, we can help you pick out glass sliding door features that will work the best for your home. Contact us today for details.
How to Choose the Right Sliding Door
Energy-Efficient Material – Glass sliding doors can be energy-efficient as well as pretty. Be sure to look for a glass type that has energy-saving features, like Low-E or argon-filled glass, and work with an experienced installer who can ensure that the door is properly installed to prevent air leaks.
Door's Location – Where your door will be installed can affect the size, shape, and look you'll want for the door. Consider where the door will be in order to pick the best features and design elements.
Security Considerations – Modern sliding patio doors have a variety of options for locking, like foot locks and multi-point locks. You'll want to decide which security features are right for your family. Glass doors should also be resistant to impact, so tempered glass, polycarbonate glass, or double-laminated glass are good choices to prevent shattering.
Maintenance – Glass sliding doors are very low maintenance overall, usually requiring just regular cleaning and lubrication on the tracks, but some materials may require more upkeep than others. Check to see what type of routine maintenance is required before you select a door.
Contact Us to Get Your Sliding Patio Door Designed
At J&M Windows and Glass in San Jose, CA, we carry the leading brands of sliding glass doors, windows, shower doors, and mirrors. Our team of designers have been trained and certified to ensure our customers receive top quality work, and we work with homeowners, architects, and contractors. Contact us today for more information on the products we carry or to request a free estimate.