Skip to Content
Get Milgard Windows & Patio Doors for Your San Jose Home
J&M Windows and Glass, California's Trusted Window Company
Searching for a reputable window company in San Jose, CA? You can trust J&M Windows and Glass, Inc. to install quality windows and doors from top-tier brands like Milgard. We assure the best products and services for our clients, which is why we only work with the best suppliers in the industry. We want to help you create the perfect home with beautiful, comfortable, and energy-efficient windows and patio doors from Milgard. They are one of the most trusted names in the industry, and for more than 50 years, have been servicing the Western U.S. and Canada. Milgard also produces its own vinyl and fiberglass frames in-house so that they can closely monitor their outstanding quality and ensure they are being created to their highest standards. They also offer an industry leading warranty for as long as you own your home. Industry experts have consistently put Milgard and its products at the top of their lists. The company has claimed many awards for its innovation and quality. In addition to exceptional products, you can also feel confident that our team is factory-trained to help get these award-winning windows and doors professionally installed in your home. If you're looking to install new windows or patio doors in your San Jose home, call us today!
Power Saving Products From Milgard
One of the reasons we love working with Milgard Windows and Doors is their dedication to environmentally-friendly home improvement. Milgard is committed to reducing environmental impact by incorporating sustainable practices in their manufacturing processes. They utilize the scraps from previous projects by putting them in a clean waste stream and using them in future projects. The products that are made of recycled materials include their vinyl windows. They consist of about 10-15% of recycled content. If you are looking to go green in your renovation project for your home, Milgard Window and Patio Doors is just the brand for you. We'd be happy to discuss your environmentally friendly options and provide you with a free estimate for our services! Here are just some of the sustainable Milgard products we carry:
Tuscany® Series | V400
Trinsic™ Series | V300
Style Line® | V250
Ultra™ | C650
Thermally Improved Aluminum | A250
Standard Aluminum | A150
Quality Vinyl Windows and Doors in San Jose
Each of our vinyl windows and doors is made with 10-15% recycled materials from our previous projects. This helps us cut down on our waste in the manufacturing process, and it allows you to have more sustainable products in your home. Explore our vinyl options below and commit to windows and doors you can feel good about installing in your San Jose home. We offer the following vinyl windows:
Style Line® | V250: Enjoy your view with the clean lines of Milgard's Style Line collection. These worry-free vinyl windows are crafted from our signature vinyl formula and tailored to your custom needs. These beautiful windows are built to last and include the following features:
Eleven exterior finish options
Five operating styles to choose from
Positive Action Lock
Industry leading warranty
Custom sizes
Increased noise control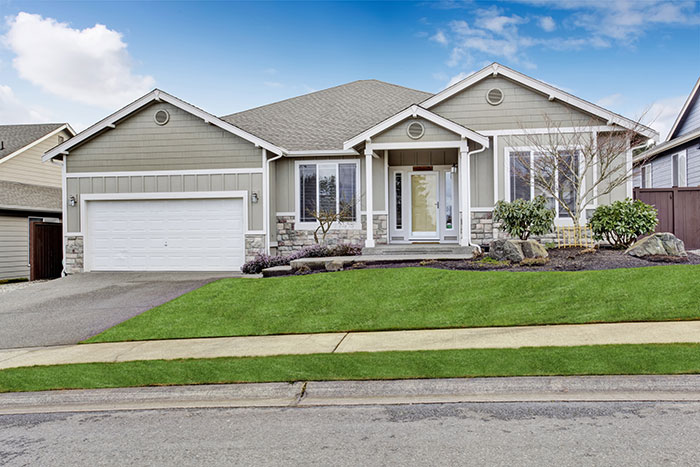 Tuscany® Series | V400: Upgrade your home with the elegance of our Tuscany Series vinyl windows and patio doors. No matter the style or size of your project, you can find the perfect window from our endless combinations. The Tuscany Series boasts the following features and more:
Industry leading warranty
ENERGY STAR® certified for energy efficiency
SmartTouch® locks
Three installation configuration options
Three exterior trim options
Eight structure options to choose from
Ten exterior vinyl finish options
Thirteen decorative glass options
Five grid options
San Jose Trusts Milgard Patio Doors
San Jose residents choose Milgard patio doors and windows because they are specially crafted for our region of California, customizable, energy-efficient, and built to withstand the tests of time. You can trust our quality, experience, and excellent service to deliver patio doors you'll love for years to come. We offer a variety of patio doors, including those in our Aluminum Series.
Thermally Improved Aluminum | A250 & Standard Aluminum | A150: Want something contemporary but timeless? Choose from our selection of aluminum windows and patio doors. The strength and lasting value of these products is enough to speak for itself. Take some liberty with the design flexibility these patio doors offer and consider the following features:
Option for standard or thermally improved aluminum
Industry leading warranty
Eight configuration options
Decorative, tinted, and SunCoat® glass options
Three frame colors to choose from
Six hardware options
Customizable grids
Trinsic™ Series | V300 Series Vinyl Windows By Milgard
If you've been looking for a contemporary vinyl window, the new Trinsic™ Series | V300 is for you. San Jose resident's look to update to a more sleek & narrow profile with maximum available viewable glass area will love the Trinsic™ Series | V300 by Milgard! Plus, the low profile hardware, uniquely designed for this series, practically disappears from view.
– Contemporary Frame
– Even Sightlines
– Durability & Energy Efficiency
– Exterior Frame Colors
– Signature Vinyl Formula
– Industry Leading Warranty
Cultivate an upscale style that remains tough against the elements with the help of Milgard fiberglass windows and patio doors. Whether you're in the market for swing or sliding doors, the fiberglass options in our Ultra series can help elevate the aesthetic of your home inside and out.
Ultra™ | C650: Dream up the perfect set of fiberglass windows or patio doors with the help of our custom options. The Ultra™ | C650 is all about an upscale design to complement any home. This series boasts the following features:
Industry leading warranty
Eight window configuration options
Swing and sliding patio door options
Four interior color options
Seven exterior color options
Six grid options
Seven hardware finish options
Four handle options
Three lock options
Call J&M Windows and Glass Today for Your Free Estimate
If you are looking for an environmentally conscious way to replace your doors or windows, choose the window company you can trust. J&M Windows and Glass provides industry-leading windows and doors from sustainable companies like Milgard to homeowners throughout San Jose. Ensure your new windows and doors are energy-efficient, durable, and beautiful. We'll help you find the perfect windows and doors to complement your aesthetic, functionality requirements and environmental concerns. Contact us today to receive a free estimate. We'd be happy to discuss your options and our line of exceptional Milgard products.