Skip to Content
Find Beautiful Patio Doors in San Jose, CA
J&M Windows and Glass Has an Exceptional Selection of Doors
Your exterior doors add to both the style and function of your home. Patio doors are especially important as they are often the most frequently used to access the patio area or backyard. Whether you're looking to replace your existing doors, or you are building a new home and are ready to choose doors to install during the construction process, the team at J&M Windows and Glass is here to help you find the perfect match. We offer a huge selection of patio doors for San Jose, CA homeowners. We can help ensure you pick the right doors to match your home's style while also providing all the functional needs you require. Contact us today for more information about our selection.
Improve the Design, Functionality, & Security of Your Home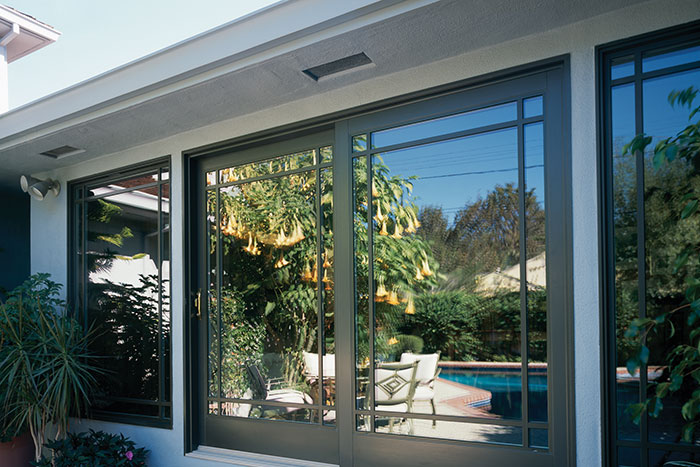 Patio doors fulfill many roles at your home. These doors keep the wind, rain, and cold air out of your home. They also provide style and protection from intruders. All these aspects can be enhanced when you choose a brand-new set of patio doors with the help of our team. We have an experienced team that can assist you in choosing the right door for your needs and installing it with professionalism. The right patio doors will help you improve the following aspects of your home:
Design: Believe it or not, doors add to the beauty of your home. A high-quality set of doors in a color complementary to the rest of your design can instantly enhance the aesthetics of your home. Let us help you choose the right door for your home.
Functionality: Your patio doors will be used often to access your outdoor space. Because of this, you want to be sure your doors are functional for space. We provide many door options to ensure you can find a style that works to enhance the space's functionality.
Security: Your doors keep your home secure, providing the necessary protection. A new set of patio doors will help you improve your home security and keep unwanted visitors out.
Types of Patio Doors
There are many different types of patio doors to choose from when searching for a new set for your home. Because we know that the needs of every homeowner are different, we offer a selection of styles to meet the unique needs of our customers. This will give you the opportunity to ensure you find an option that complements your home's look while also providing the security and functionality you need. We offer the following types of patio doors:
Sliding Doors: Glass sliding doors are a popular choice for patio and deck entrances. These doors consist of two panes of glass, one which is stationary and one which slides open for easy access to the outdoors.
French Sliding Doors: French sliding doors offer the look of French doors with the function of sliding doors. Traditional French doors swing open, but that can require additional space you may not have. With French sliding doors, you get the beauty of French doors, but they slide open and close to conserve space.
French Patio Doors: Standard French patio doors consist of two hinged doors that meet in the middle and swing open to either side. They are an excellent option if you have the space to accommodate the doors when they swing open. The addition of French doors can bring luxurious looks to any space.
Scenic Patio Doors: Scenic outdoor patio doors are meant to maximize your outdoor view, giving you an unobstructed view of your yard and blending your outdoor and indoor spaces. You can get this type of door in many different styles, including bi-fold, lift, and multi-slide.
Factors to Consider When Choosing Patio Doors
There is no shortage of options when it comes to choosing a patio door for your home. However, sometimes all these options can be overwhelming. The team at J&M Windows and Glass is here to help you sort through all the options to find the best fit for your home in San Jose, CA. We've come up with a list of items you should consider before making your final purchase. We encourage you to consider these factors when browsing for a new residential patio door:
Energy Efficiency: Doors keep the outdoor air outside and indoor air inside, helping to control the temperature in your home. This directly affects your energy efficiency and how hard your home comfort systems have to work. Be sure to ask about the glass type and frame style of the door you're considering and how it will affect your energy bills.
Installation Requirements: Some patio doors require special hardware or the installation of a threshold. Our team can tell you more about these requirements and how it could affect the look and accessibility of your home.
Security Features: Your new door should help keep your home safe from potential intruders. We encourage you to consider the safety features, like locks and other security measures, before deciding what's right for you.
Contact J&M Windows and Glass
Have you noticed that your current patio door is looking outdated? Are you designing a new construction home and want a stunning patio door included in the design? You've come to the right place. J&M Windows and Glass have a vast selection of patio doors to meet the style and needs of everyone. Whether you want a classic look or something more upscale, we can find you the perfect option. Please reach out to us today to learn more about our services.