Skip to Content
SAN JOSE PATIO DOORS
Design, Functionality and Security for Your Home
Your patio doors play an important role in the look of your home's interior and exterior spaces. Whether you want traditional sliding doors, elegant French doors, or flexible scenic patio doors near Campbell, J & M Windows and Glass has the perfect product for you.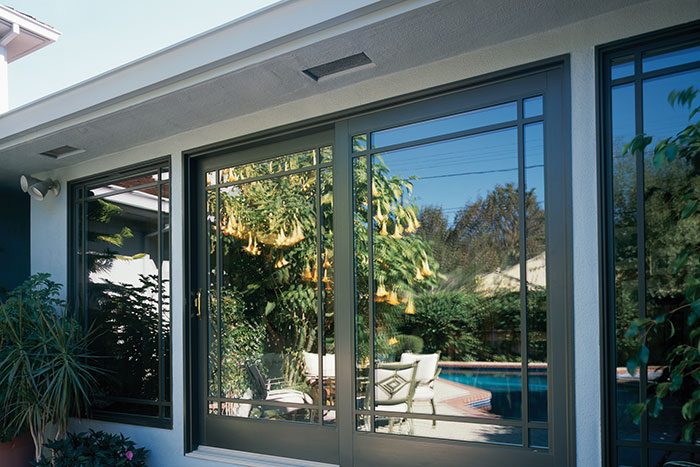 Patio Door Styles
Residential patio doors are available in a variety of styles, allowing you to make a choice that complements your home's look and provides the security and functionality you want.
Sliding doors are a traditional choice for patios and decks. These doors include two framed panes of glass, which overlap to slide open for easy access. Sliding doors are available in any style, from contemporary and modern to elegant and classical.
French sliding doors mimic the look of French doors, but offer the function of sliding patio doors. These doors have four panels: the inner two panels slide back, rather than swing outward, to conserve space.
French patio doors can give your home a luxurious and classical look. They consist of two hinged doors that meet in the middle of the doorway, then swing either outward or inward to provide outdoor access.
Scenic patio doors maximize your outdoor view, allowing you to highlight an outdoor living area and seamlessly connect your home's interior and exterior spaces. These patio doors are available in bi-fold, lift, and multi-slide designs, so you can completely tailor both the look and the function of your patio doors to your preferences.
Factors to Consider When Choosing Your Patio Doors
With so many options to choose from, it's important to consider several factors when selecting your residential patio doors. J & M Windows and Glass is a door and window supplier serving Campbell and San Jose. You can learn more about the products and services we offer when you call 408-371-7255, or stop by our Bay Area showroom to check out our full selection of products and discuss your needs with a glass professional.
Your patio doors will affect your home's energy efficiency. Make sure to ask how the size, glass type, and frame style will impact your heating and cooling bills.
Some patio doors require specialized hardware and may include the installation of a threshold by default. Consider how these factors will affect your home's look and accessibility, and talk to your door and window supplier about making any changes.
You'll also want to consider security when installing new patio doors. Locks and other security measures are available, so talk to your glass company about your options.