Skip to Content
Customize Glass Shower Doors in San Jose, CA
SAN JOSE SHOWER DOORS
Update Your Bathroom With a New Glass Shower Enclosure Today!
The bathroom is one of the most often remodeled rooms. If you're planning a bathroom remodel in the near future, you'll need to consider many different design elements at once. One simple way to make your bathroom more aesthetically pleasing is to ditch the shower curtain and install a new, elegant shower door. J & M Windows and Glass has been installing shower doors in San Jose for decades, and we'll gladly help you find a door that suits your budget and style.
Factors to Consider When Selecting a Shower Door
There are a wide range of shower doors to choose from. If you're having trouble settling on a single style, let the experts at J & M Windows and Glass offer their two cents. Here are a few factors you'll need to consider.
Shower and Bathtub: The arrangement of your bath and/or shower area will help you determine which shower door is best. If you have a tub and shower combo, for example, you're probably best off with a sliding glass door.
Glass Opacity: You'll also need to decide whether you want a transparent or opaque shower door. If you wish to show off your shower area's tile work, a transparent door is perhaps the better choice.
Space Allowance: If you have a large bathroom, you should be able to get away with a pivot door than opens outward. Sliding glass doors are better suited to smaller bathrooms.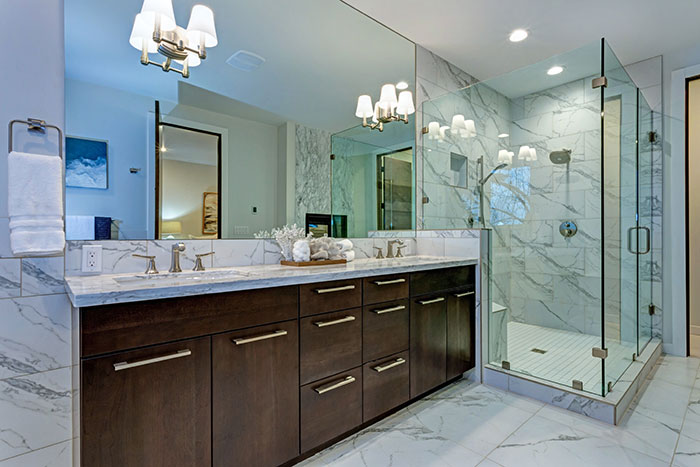 Specific Shower Door Features
The specific features of your custom shower enclosure will guide our experts during shower door installation. You have dozens of options and hundreds of combinations to choose from to customize your new shower door. Specific shower door features include:
Door Style – The look and functionality of your new shower door is first determined by picking the type of door you want. Sliding glass doors are ideal for smaller bathrooms and tub/shower combos, while pivot doors offer a luxurious shower entryway.
Framed vs. Frameless – Our shower door installation pros can help you achieve a specific look and feel in your bathroom by installing either framed shower doors or frameless shower doors. Frameless shower doors have a "floating" quality that can open up your bathroom and help show off the beautiful tile and fixtures in your shower.
Glass Finishes – The type of glass you choose for your shower door will also influence installation. While all glass products will be handled with the utmost care, certain glass finishes are more fragile and sensitive and require extra special care and handling during installation.
Accessories and Options – There are many choices of style and finish to complete the look of your enclosure.
We Can Accommodate a Wide Variety of Shower Designs Including:
| | |
| --- | --- |
| • Bathtub Showers | • Bypass Showers |
| • Alcove Stand-Alone Showers | • Neo-Angle Showers |
| • Corner Stand-Alone Showers | • Pivot Door Showers |
To begin exploring your shower door options & features, contact J&M Windows and Glass today.  We've been one of the most trusted window companies in San Jose for decades. We'll gladly lend our expertise to your next renovation project.