Skip to Content
Install Framed Glass Shower Doors in San Jose, CA
Quality Glass Shower Doors from J&M Windows and Glass, Inc.
If you're looking for glass shower doors in San Jose, CA, J&M Windows and Glass has the top brands you want and the experience to expertly install them. Whether you need frameless or framed glass shower enclosures, we'll discuss your preferences, help you make the right decision for you, and install them with precision. We've been in business for 40 years, and we're committed to exceeding our customers' expectations. When you're ready to upgrade your bathroom with new glass shower doors, contact us for a consultation.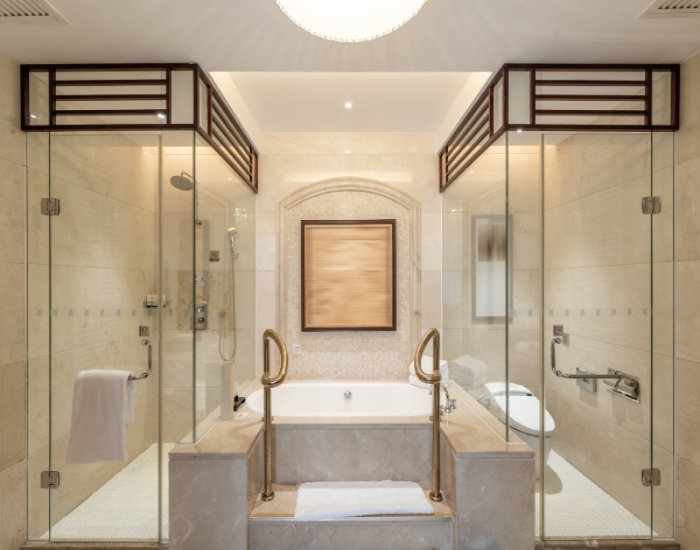 What Is a Framed Glass Shower Door?
A framed glass shower door is the traditional style of glass shower door that's been popular for years. It is framed on all four sides of the operating door. Framed glass doors are not as modern as frameless models, but they do offer a good variety of options for styles and configurations. They are an economical option, and the frames provide stability to support tricky installations.
Pros and Cons of Framed Glass Shower Doors
When you're choosing a glass shower door, there's a lot to consider. Even if you think you know what you want, it's important to consider the pros and cons of framed glass shower doors before deciding to install them:
Pros:
Framed glass shower doors provide more stability. The frame helps to steady the door and protect the glass, making it less likely to shatter.
A framed glass shower enclosure is easier to install than frameless. The installer just needs to hang the frame and fit the glass doors into it. Framed glass shower enclosures can fit over any type of shower material. Frameless doors, by contrast, require customization and precise placement of hinges and hardware.
Framed glass shower doors keep in more water. Because they have a track that traps water, as well as caulk and a metal frame, framed glass shower doors are less likely to leak. Their watertight design keeps water inside the shower.
Framed glass shower enclosures come in a variety of frame design options. You can choose from a variety of different metal frames, or even choose custom-framed glass doors to match your décor.
A framed glass shower door is more cost-effective than a frameless door. A framed glass shower typically costs 10 to 15 percent less than a frameless option. In addition to less expensive installation, the doors themselves are less expensive, because they use thinner glass.
Cons:
The range of motion for a framed shower door is limited. You can choose sliding doors or doors that open outward. You have a lower chance of injury if your door will swing both in and out.
Framed shower glass doors are harder to maintain. The metal can corrode, the rubber can become moldy, and mildew can build up around the frame. You'll have to spend time cleaning your glass shower doors, while frameless doors primarily just need squeegeeing.
Many consider the design of framed shower glass doors to be outdated. Especially if they're installed in bathrooms with modern finishes, framed doors can appear outdated. Even though they come in different designs, many homeowners prefer the modern look of a frameless shower enclosure.
Framed Shower Door Options and Types
One unique aspect of framed glass shower doors is that the type of frame you can choose is extremely varied. The hardware, for instance, can be chosen to match your preferred aesthetic. There are different metal finishes and painted enamels that can create different looks, but there are also different types of doors. These include:
Single Door: This is just a panel of glass hinged to the entrance of the shower wall, and it's a good option for people with limited space in the bathroom.
Inline Door: These doors are similar to single doors, but they can be hinged off the wall or a panel of glass.
90-Degree: If your shower only has one or two walls that form the enclosure, the remaining enclosure space can be defined by combining two or three glass panels at 90-degree angles.
Sliding: A good option for conserving space, these slide left-to-right behind an adjacent panel of glass.
What Factors Should Be Part of Your Choice?
When you're choosing between glass shower doors, there are many different factors to consider. In addition to framed and frameless, you'll need to think about the look and functionality of the door. The available space should be assessed to determine what will work best for you. The glass itself is another aspect to consider because there are many different finishes and types of glass. The glass you choose influences installation, and the finish you choose will determine the look and privacy of your shower. There are also different accessories and options that will finish the look, so you'll have to choose those while you're designing the look of your shower. During the initial consultation, professionals from J&M Windows and Glass will go over your options with you to help you create the look you want.
Shower Door Installation
After an initial design consultation and estimate, we'll take careful measurements to make sure your framed glass shower enclosure will perfectly fit your space. Once the glass shower doors, frame, and accessories are ready, we'll contact you to schedule an installation appointment. Using only the highest-quality materials and equipment, we'll install your framed glass shower doors quickly and efficiently.
Should You DIY or Hire a Professional?
Though a framed shower door is easier than a frameless door to install, it's still not a job that can easily be done by a do-it-yourselfer. When you hire professionals to install your framed glass shower doors, you'll:
Prevent Water Damage: Experienced installers know how to create a tight seal to prevent leaks.
Avoid Injury: Heavy glass panes can be hazardous, so leave the heavy lifting to those with experience.
Enhance Your Aesthetics: Shower door installation can sometimes be complex and challenging, but professional installers know how to install your framed glass shower door without compromising style.
Why Choose J&M Windows and Glass for Framed Glass Shower Doors?
When you buy framed glass shower doors, you'll want to shop the highest-quality brands and have the doors installed by expert installers who know exactly what they're doing. J&M Windows and Glass has been installing shower doors in San Jose, CA for 40 years, and our high standards set us apart from the competition. We use only the best materials and equipment, our installers are factory-trained, and our entire team is knowledgeable about each of our products. We'll answer your questions and complete your project, leaving your home better than we found it and making sure the process is stress-free for you.
Contact Us for Framed Glass Shower Doors in San Jose, CA
We understand the complexities of home renovation, and we know that many people would like to improve their bathrooms but don't have the budget for a complete renovation. That's why we offer affordable and professional shower door installation services, providing you with top-quality customer service from the initial consultation through the completion of the project. Our commitment to excellent customer experiences on every job means we'll give you the most flexibility and convenience while installing the perfect glass shower enclosure for your bathroom. Contact us today for frameless glass shower door installation, confident in the knowledge that you can rely on a company that's been providing high-quality service for decades.