Skip to Content
Residential Skylights in San Jose, CA
We Are San Jose's Leading Skylight Provider
Bright beams of sunlight radiating throughout your living room can enliven your spirits and create a sense of sophistication. J&M Windows and Glass can make this possible for customers in San Jose, CA. We offer exceptional skylights for homeowners throughout the area to enhance living rooms, bedrooms, and other sitting spaces. Our family-owned and -operated company has been a community staple for more than four decades. In addition to providing top-tier glasswork and beautiful mirrors, we offer skylights that enable customers to take advantage of sunny California days from the comfort of their homes. Our knowledgeable team will help you determine whether a skylight is right for your home and where it may work best. If you are considering this illuminating home enhancement, call us today to learn more.
Understanding the Basics of Skylights
Skylights are windows in your roof or ceiling. They provide a portal through which the sun's rays can enter your home and add natural light to your interior. Skylights come in all shapes and sizes. J&M Windows and Glass can help you determine the right style for you. We want to match your aesthetic and position your skylight in an ideal area of your ceiling. Modern skylights have come a long way since the concept was first introduced. They can now reduce summertime heat gain and wintertime heat loss and have an array of features. We will help you find the perfect skylight for your Northern California home.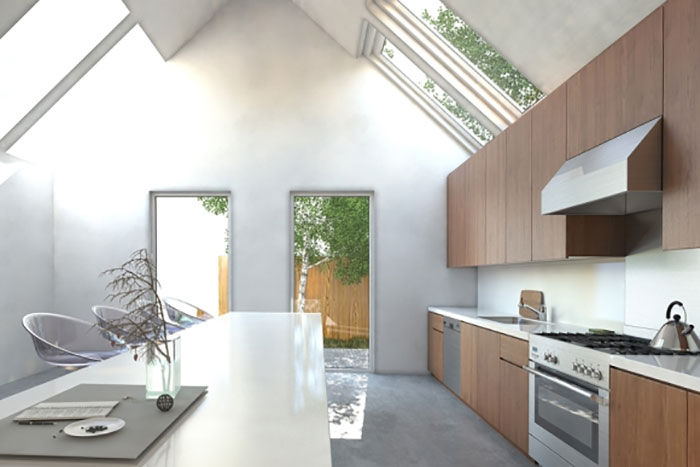 Deciding Whether A Skylight Is Right for Your Home
The idea of a skylight is appealing. You may envision bright room illumination on sunny days and even patches of warmth on the living room carpet. But residential skylights are not suitable for all homes. J&M Windows and Glass can offer tips to help you decide if a skylight will work for your residence. Consider the following factors:
Roofing – If your roofing features truss framing that is 24-inch on-center, it can accommodate two-foot-wide skylights. However, if you need to cut a truss for a wider skylight, a structural engineer will have to create alternative framing.
Attic – You will need to ensure your attic is clear of HVAC systems, wiring, or plumbing, that could get in the way of your skylight.
Architectural Skylight – Skylights can enhance most architectural styles, but they can negatively impact the curb appeal of some older homes.
We Offer A Wide Selection of Skylights
Every homeowner has different needs and preferences when it comes to skylights. But our professionals are eager to accommodate them all. Therefore, we offer a wide selection of skylights. If you are unsure of what may work best in your home, let our design team visit for a consultation. We will evaluate where your skylight will be and your room's elements to make a suggestion based on our expertise. We can also show you examples of past work for inspiration. We offer skylights in all shapes, sizes, and styles, including:
Fixed
Rectangular
Solar
Sun Tunnel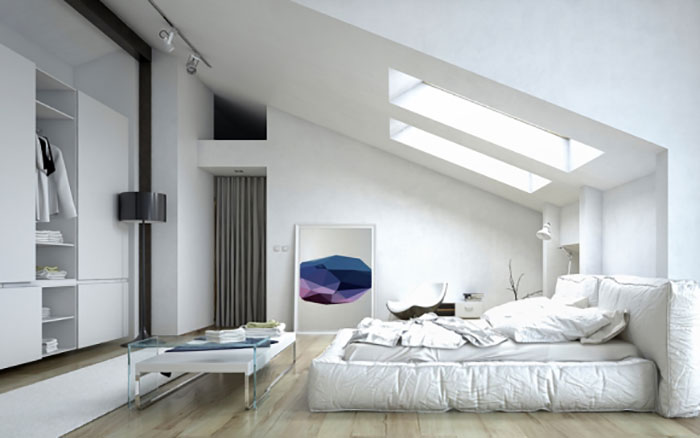 Benefits of Residential Skylights
Skylights can be exceptional additions to your home. They provide both functional and aesthetic enhancements. Despite their relatively small size, they can have a significant impact. Benefits of residential skylights include:
Additional Light – Roofing skylights add natural light in areas it may not otherwise reach, including bathrooms and closets. You can also use them to illuminate your living spaces without lamps or overhead lights. Natural light may improve your mood and spirits.
Improved Ventilation – Custom residential skylights can include many features. Some of them may even open and close for your convenience. This allows for improved airflow to ventilate your home and enhance your comfort.
Relaxing Sounds – Your skylights can provide an ambiance in your room whether they are open or closed. Open skylights allow you to hear the wind blowing through the leaves and the sounds of nature. When closed, you may hear the pitter-patter of raindrops over your head, creating a relaxing experience.
Increased Home Value – Whenever you add features and elements to your home, its value increases. Natural light is coveted, so skylights are attractive features to potential homebuyers.
Contact J&M Windows and Glass Today
A skylight is often the perfect addition to a sitting area. It provides warmth and illumination that artificial light cannot match. If you are considering adding skylights to your home, contact us today to schedule a consultation.