Skip to Content
San Jose, CA Frameless Glass Shower Door Installation
J&M Windows and Glass, Inc. Provides Glass Shower Doors
Remodeling a bathroom offers a good return on your investment, but it can also make the bathroom more enjoyable and appealing. While a complete bathroom remodels is a complicated process, installing beautiful new shower doors is a simple way to make your bathroom more aesthetically pleasing. At J&M Windows and Glass, we offer frameless glass shower doors to upgrade the appearance and function of your bathroom. We adhere to a high standard of excellence, strive for attention to detail, install only the best brands, and stand behind our work. We are committed to making sure your shower doors meet your expectations, so contact us when you're ready for a new look in the San Jose, CA area.
What Is a Frameless Shower Door?
If you're ready to give your bathroom a spa-like appeal, frameless glass shower doors are a great way to accomplish this. Modern, elegant, and attractive, these shower doors don't have any of the metal framings of traditional shower doors. A frameless shower door allows you to show off your fixtures and decor, without the interruption of unattractive metal or rubber. The glass in a frameless shower door is thicker than traditional shower doors, which is why it doesn't need the support of a frame.
Pros and Cons of Frameless Glass Shower Doors
Frameless glass shower doors are sophisticated and modern, but they're not for everyone. At J&M Windows and Glass, we pride ourselves on exceeding customers' expectations, so when you're trying to decide between shower doors, we provide consultations to help explain your options. Before deciding to install them, t's important to learn as much as you can about the pros and cons of frameless shower doors, including: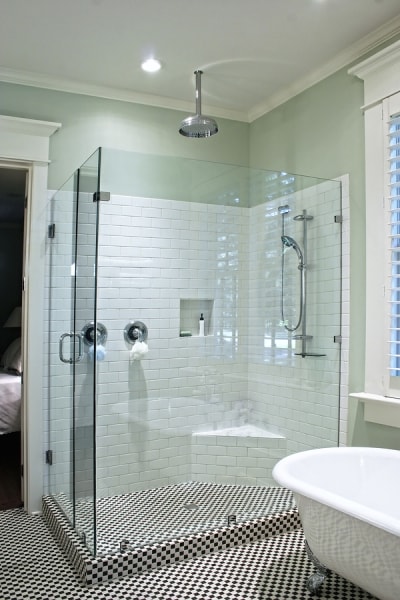 Pros:
They Are Stylish: Frameless glass shower doors have a trendy, modern look that's extremely attractive. What's more, because they don't have any components that block the line of vision, they allow you to show off your bathroom's décor.
No Corrosion or Decay: Metal frames can easily corrode, and in fact, that's one of the most common reasons that homeowners must replace them. Because they don't use any metal, frameless glass shower doors last longer.
They Make Your Bathroom Appear Larger: It's easy for a bathroom to feel small and cramped, but when you use frameless shower doors, it opens up space and makes it feel larger than it actually is.
More Customization Options: Fully customizable, each frameless glass shower panel is tailored precisely to fit your shower space.
Get All-Natural Light Inside: Natural light is a boon in the bathroom, making it easier to apply makeup and more pleasant to be in the room. When you've got clear glass shower doors with no frame to obscure the view or block the light, you'll allow more natural light in the room.
Creates a Spa-Like Experience: By making your bathroom feel more open, frameless shower doors create a more luxurious atmosphere. The lack of visual obstructions can be calming, and because you'll be able to see them more clearly, you'll be more likely to choose better fixtures.
Easy to Clean: There are no nooks and crannies, no grooves or hardware, so there are no spots where mold, mildew, and dirt can collect. All you'll need to keep your shower doors clean is a simple squeegee.
Cons:
They Are Expensive: Because they're made of sturdier, thicker glass, frameless glass shower doors cost more than traditional doors to install. This can be a problem if you're on a tight budget, but frameless shower doors last a long time and can increase the property value of your home. In the long run, the upfront cost may end up being worth it.
Potential for Leaks: A frameless shower door has no frames, seals, or insulating materials, so frameless glass shower door installation must be precise to prevent leaks. That's why choosing an experienced, reliable contractor is so important.
Risk of Shattering: In rare cases, frameless glass doors can shatter. This can result from damaged glass, improper installation, door slamming, or severe changes in heat and pressure. The glass is tempered, however, and has been designed to shatter into small pieces to reduce safety risks.
Less Privacy: Because of their transparent walls, frameless glass showers are sometimes too revealing for families with shared bathroom space. Fortunately, choosing frosted glass options can provide privacy while not detracting from the modern feel of your frameless shower doors.
Frameless Shower Door Glass Types
Frameless shower doors are usually made from tempered glass, which makes them safe and durable. However, there are many different styles of tempered glass from which to choose. Clear frameless glass shower doors are the most popular because they're great for showing off tilework inside the shower, they make the bathroom feel larger, they provide a bright, open ambiance, and they're easy to clean. However, there are several other types of glass available, including:
Frosted Glass: Also called acid-etched glass, this makes the shower feel more secluded. You can choose a frosted surface that's uniform or patterned.
Pattern Glass: This type of glass has a textured design on the surface and offers some privacy. You'll find a wide variety of patterns from which to choose.
Tinted Glass: Depending on the company that makes the glass, the available colors will vary.
Factors to Consider When Choosing Frameless Glass Shower Doors
If you're having trouble picturing the perfect frameless glass shower doors, we can help you determine the style that's right for you. The arrangement of your bath and/or shower area will factor into this decision, as will the amount of space you have available for shower door installation. If you have a large bathroom, for instance, you'll have more options, and could choose a door that pivots to open outward. In a smaller bathroom, a sliding door would be a better option. The other factor you'll want to consider is the glass opacity because while a transparent door is better for showing off your tile work, an opaque door affords more privacy.
Frameless Glass Shower Door Installation
All shower doors must be installed in such a way that the glass fits correctly in the shower area. With frameless shower doors, this is particularly important, because they must fit together perfectly to ensure the proper seal. This process is completed in four steps:
We hold a consultation. During this step, we'll discuss your needs and preferences and offer you specific information and suggestions. You'll be able to view product samples to get a better idea of what you want.
We measure and inspect the shower area. If your consultation is held in your home, we can typically do this at the same time as the initial meeting. Precise measurements are vital because the glass will need to be cut to fit in your unique space.
We prepare your frameless shower doors and other components. The glass will be fabricated, we'll order the hardware, and when it's all ready to go, we'll call you and schedule the frameless glass shower door installation.
We'll install your custom frameless shower enclosure. Our team of trained installers will put everything in place and answer any questions you may have.
How to Clean Glass Shower Doors
To make sure your frameless glass shower doors remain beautiful, protect them before you ever take a shower. You might buy glass doors with surfaces that are permanently sealed during manufacturing, or doors that have been treated with a sealant, or you might treat them yourself. Once they're sealed, put a routine into place to maintain them. Keep a squeegee in the bathroom so that family members can dry the glass doors after they shower. When the glass gets dirty, use an approved shower glass cleaner and a non-abrasive cloth or sponge to clean it. The hardware can be cleaned with a soft cloth and a solution of mild dish soap and water, except brass, which should only be wiped with a cloth.
Why Choose J&M Windows and Glass for Frameless Glass Shower Doors?
If you're looking for frameless glass shower doors in San Jose, CA, J&M Windows and Glass has got what you need. Family-owned and -operated, our business has been around for four decades. We've worked hard to build a reputation for top-tier service on all things glass, and we offer affordable rates as well. Our high standard of excellence and professionalism sets us apart from the competition, and our entire team is knowledgeable about each of our products. We understand that many people who want to upgrade their bathrooms don't have the budget for a complete remodel, and that's why we offer affordable and professional shower door installation services.
Contact Us for Frameless Shower Doors in San Jose, CA
Our commitment to excellent customer experiences on every job means we use nothing but the best materials and brands, and all of our team members are factory-trained. Our experts are committed to giving you the most flexibility and convenience while designing and installing your custom shower enclosure. When you hire us for your frameless glass shower door installation, you can be confident that your experience will be stress-free. Contact us for a frameless glass shower door installation from a San Jose company that's been providing high-quality service for decades.