Skip to Content
Shower Door Installation
Affordable & Professional Shower Door Installation for Your San Jose Home
If you want to upgrade your bathroom but don't have the budget for a complete remodel, turn to the shower door installation professionals at J&M Windows and Glass. Our team of experts is committed to giving you the most flexibility and convenience while designing and installing your custom shower enclosure. Many satisfied customers throughout San Jose can attest to the quality of our shower door installation services.
Benefits of Professional Shower Door Installation
Though installing a shower door may seem simple at first, there's actually quite a bit more to it. Here are a few reasons why you should give yourself a break and let a professional install your shower door.
Prevent Water Damage: An installation professional can make sure your shower door is tightly sealed, greatly reducing the risk of water damage. Getting installation right the first time can also reduce repair costs down the road.
Avoid Injury: Moving around large panes of glass can be dangerous. Instead of putting yourself at risk, consider leaving the heavy lifting to the professionals.
Enhance Aesthetic: The professionals at J & M Windows and Glass have ample experience with many challenging and complex shower door installations. If you hire a professional, you won't need to compromise your style on account of inexperience.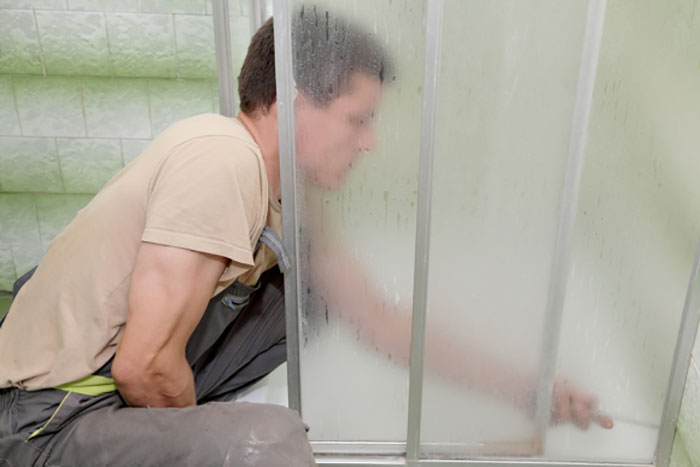 Shower Door Installation Prep Tips
The final design has been submitted and you've scheduled an installation date with J&M Windows and Glass—now what? Here are some things you should do to ensure a smooth installation.
Coordinate any required municipal permits and inspections
Remove trash cans, light furniture, décor, and anything else that may get in the way during shower door installation
Clear a path from the front door to the bathroom to provide a safe walkway for the installers
On the day of installation, keep pets outside or in another room while installers are going back and forth between the bathroom and the truck
Team of Installation Experts
Our team of installation experts are committed to affordable and superior installation and will take into account all your specific shower door features, including:
Slider Versus Pivot
Framed Versus Frameless
Glass Finishes
Accessories and Options
Call Today For A Free Estimate and Consultation!