Skip to Content
Can You Replace a Sliding Glass Door with French Doors?

Introduction
Welcome to J&M Windows and Glass, the leading experts in door and window replacements in San Jose, CA. If you've found yourself contemplating the pros and cons of sliding glass doors versus French doors, you've come to the right place. Our team of professionals are well-versed, providing comprehensive solutions, be it for a sliding glass patio door that can effortlessly blur the line between your indoor and outdoor spaces, or sophisticated French doors that add a touch of elegance to your home. But first, let's delve into the essential factors to consider when thinking about replacing your sliding glass door with French doors. In this article, we'll cover the various options available, material considerations, practical aspects, and what to know before you make the final decision.
Different Door Options
When choosing a door, particularly for your patio or shower, you should be aware of the many options available:
Sliding Glass Patio Doors – These doors are excellent for modern architectural styles, offering expansive views and effortless access to your outdoor space. They're also great for small spaces where a swinging door isn't practical.
Sliding Glass Shower Doors – a stylish and functional choice for bathrooms, these doors are easy to clean and create a sense of space.
French Patio Doors – If you're aiming for a timeless, elegant look, French patio doors are the way to go. They swing out, allowing for a full view of your outdoor area.
Double French Doors – These are often used inside the home to elegantly separate rooms while maintaining an open, airy feel.
Can You Replace a Sliding Door with a French Door?
Yes, replacing a sliding glass door with French doors is entirely feasible. While the mechanisms are different-one slides horizontally and the other swings open-the existing door frame and opening can generally be modified by professionals to accommodate French doors. You'll enjoy greater aesthetic appeal, flexibility, and possibly even better energy efficiency with French doors.
A Few Things Before You Move Forward with the Switch
Before making the leap, consider the following:
Space Considerations – Measure your available space. French doors need room to swing open and closed, either inward or outward.
Budget – Be prepared for potentially higher costs. French doors are often more expensive due to the material and craftsmanship involved.
Aesthetic and Architectural Compatibility – French doors offer a classic look, but make sure this suits your home's overall design.
Local Building Codes – It's important to ensure that your new doors will be compliant with local regulations or homeowner association guidelines.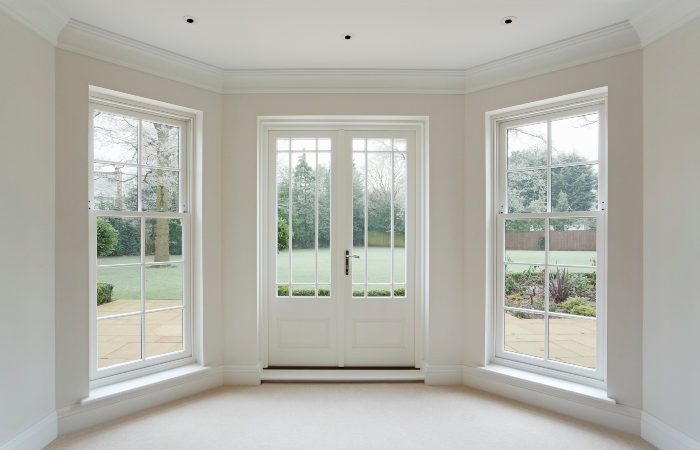 Materials Used
Sliding Door
Glass – The use of tempered or laminated glass offers durability and safety.
Frame – Materials like aluminum, vinyl, and wood are common, each with their pros and cons in terms of durability, maintenance, and aesthetic appeal.
French Doors
Glass – Often, French doors use double-pane or triple-pane glass for better insulation and energy efficiency.
Frame – Frames can be made of wood, steel, or fiberglass. Wood offers a classic look, steel provides strength, and fiberglass offers a balance of both.
Contact J & M Windows and Glass to Learn More About the Process
Making the choice to replace your sliding glass door with French doors is more than just a design switch; it's an investment in the aesthetic appeal, functionality, and even the energy efficiency of your home. Such a substantial change may have its challenges, but with the team of professionals at J & M Windows and Glass by your side, you'll find the transition smooth and rewarding. We've guided you through the critical considerations-space, budget, aesthetics, and material-to help you make an informed decision. Our services ensure that every aspect of your door replacement project is handled with precision, from the first consultation to the finishing touches.
Reach out to us today for a free consultation. We can provide a tailored solution to meet your specific needs, offering insights and options that align with your vision for your home. Don't just open a door-create an entrance that you'll love for years to come with J&M Windows and Glass.
For over 40 years, J&M Windows and Glass has been a trusted name in glass services in San Jose, CA. Serving homeowners, contractors, architects, and industry professionals, we specialize in a variety of glasswork including residential windows, skylights, mirrors, patio doors, and shower doors. We pride ourselves on offering expert consultations, high quality products, and flexible, personalized solutions to elevate the aesthetics and value of your home. Our commitment to quality and reasonable pricing makes us the go-to choice for all your glass needs.
For more information about the products and services we offer, contact us via our website, or give us a call at 408-796-4424. We look forward to meeting you!